PRODUCTS>>
Nylon PA1010 Resin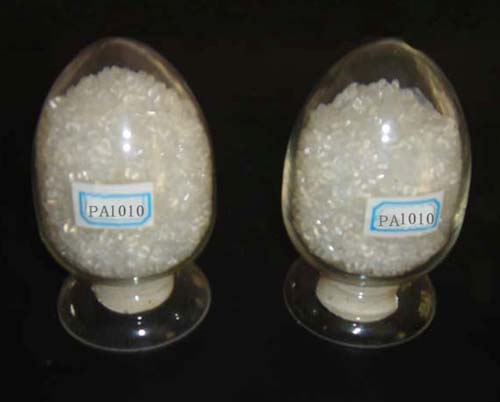 Polyamide 1010 - Nylon 1010 - PA 1010
PA1010 Molecular Formula:(C20H38N2O2)n
PA1010 Structural Formula:

PA1010 Features:Compare with the Nylon 610 and the Nylon 612, the nylon 1010 has lowest water absorption,better dimensional stability,and better oil resistance,alkalis Resistant,non-toxic,Ultra high toughness, strong adhesion, high strength, low molding shrinkage rate.
PA1010 Application:
With the good processing,it is mainly used for the base material of modification,as the production of car system, oil pipe, corrugated pipe, quick joint of automotive, automotive ABS sensor shell and air conditioning hose pipe production, etc.And it is also applied to wire, cable, fiber optic cable, metal surface coating or ropes.
It is according to customer's requirement for injection molding, extrusion, blow molding, or made into powder coating, widely used in aerospace, shipbuilding, automobile, textile, instruments, electrical, medical equipment and other industrial fields,replace PA11.
PA1010 Index:
Test Items

Standard Parameter Value

Type I

Type II

Type III

Viscosity Number

g/ml

105±15

135±15

180±20

Loss on Drying

‰

≤1.0

Granularity

N/g

30-50

Melting Point

℃

208-222

Relative Density

G/cm3

1.08-1.12

Tensile Strength

MPa

≥50

Elongation At Break

%

≥260

Flexural Strength

MPa

≥75
* Note:Tell me about your parameters, Lyuechem company will give you a more satisfactory answer.
If you have any needs or questions about Nylon PA1010 Resin, you can send me an email to discuss and exchange with us. We welcome your consultation! E-mail:sales@lyuechem.com
Nylon PA610 Resin
Nylon PA612 Resin
Nylon PA1010 Resin
Nylon PA1012 Resin